Abortion: Three Perspectives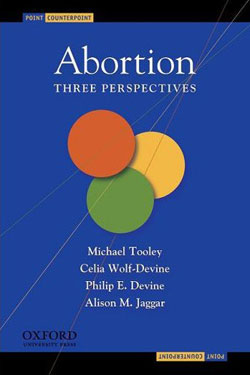 Moving beyond traditional "liberal versus conservative" arguments for and against abortion, Abortion: Three Perspectives is an up-to-date, accessible, and engaging exploration of this highly contentious issue. Featuring a triangular debate between four prominent moral and political philosophers, it presents three different political perspectives: Michael Tooley argues the "liberal" pro-choice approach; Philip E. Devine and Celia Wolf-Devine argue the "communitarian" pro-life approach; and Alison M. Jaggar argues the "gender justice" approach. However, each of the authors' self-identifications is also challenged by one or more of the other authors, who offer alternative interpretations of liberalism, communitarianism, and feminism, as well as of what it means to be pro-choice and pro-life. All of these viewpoints are controversial, among both philosophers and general readers. Furthermore, because the arguments do not rely on religious authority, they are directed at all readers, regardless of religious affiliation.

Abortion: Three Perspectives is divided into two parts: the authors first develop their ideas in depth and then briefly critique the other positions. Drawing examples from real life, they also integrate logic and empirical data into their arguments and consider views of abortion across other disciplines. As philosophers, the authors possess expert skills in critical analysis; their debates provide students and other readers with a model of dialogue among those who very strongly disagree. Abortion: Three Perspectives is ideal for courses in contemporary moral problems, introduction to ethics, bioethics, medical ethics, and feminist philosophy.